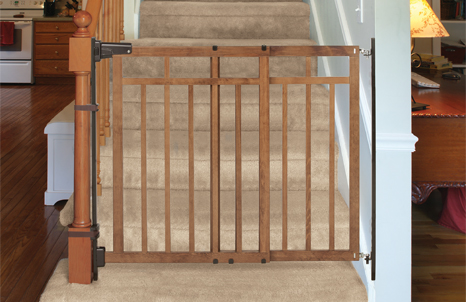 One of the most enjoyable parts about being a parent is watching your child learn as they grow. Children love to explore the world around them, and when they become mobile, there is one place in particular that is especially dangerous – the stairs. Most people do secure the top of their stairs, but in many cases it is just as important to find the best baby gate for bottom of stairs.
Growing up, children and humans, in general, are naturally and continuously curious. Mobility gives them the means to explore new places, but when they're small, it's critical that you keep an eye on them. Raising a child is no picnic, and as much as we want to watch them every second, it's impossible.
Every parent wants to keep their child safe, and baby proofing with the best baby gates is pivotal in their safety. Installing such a safety measure at the bottom of the stairs will not only keep them from climbing stairs and eliminate the possibility of them falling, but you won't have to worry about them getting into different rooms that may not be baby proofed.
The rest of this post will go detailed into how you should choose the best bottom of stairs baby gate for your needs. I will also present a few products that I recommend. For those of you that don't want to read the whole post I have created a simple comparison table that you can use.
What is a Baby Gate?
A baby gate is what it sounds like: a gate that is used for baby proofing, and sometimes pet-proofing a house. These gates are generally designed to block off entry ways of places where young children shouldn't be. In modern times as such, a majority of baby gates are designed with a way to open them up and walk through, without having to step over them. Not only does this allow you to walk through without injuring yourself safely, but the latch eliminates the possibility of the child getting through. It's a win-win for the parent.
Here are a few terms you should be familiar with when you begin your search for the best baby gate:
Step-over gate
A step-over baby gate is made up of one solid piece and does not have a part to open and walk through. Most of these gates are short enough for a parent to step over if need be. They are ideal for low-traffic areas and normally are pressure-mounted.
Walk-thru Gate
The term "walk-thru" gate is actually an umbrella term for two different types of walk-thru gates. The first type comes with a door-like part in the center that can be opened and closed to allow a person to walk through it. The second type of walk-thru gate swings out as a whole and is attached to the wall by hinges. Walk-thru gates can be either pressure-mounted or hardware-mounted.
Pressure-mounted gate
A pressure-mounted baby gate is pretty self explanatory and uses pressure to secure it to the walls. Most of these gates come with feet or suction cups on the sides of the frame that push against the wall. The user has to adjust the gate by expanding it towards the walls until pressure secures it.
Hardware-mounted Gate
A hardware-mounted baby gate uses hardware that is screwed into the wall and attaches to that hardware by brackets or hinges. As a top of stairs baby gate, these are your only choice. These are the sturdiest forms of baby gates but can leave holes in the walls where it is used due to drilling. If you plan on moving anytime soon and rent your home, you need to consider this. You may actually lose your security deposit unless you fill the holes before leaving.
Why use a Baby Gate?
You might be thinking to yourself, "I'm a hands-on parent who always has an eye on my child. Why do I need a baby gate?" Even the most attentive parent can use the help of one. An added security measure as such not only keeps children out of problem areas, but they can aid in keeping a child in a safe place.
The most important place to use a baby gate, however, is a staircase. Stairs can be dangerous even for toddlers who have learned to go up and down them. It only takes a second for a child to slip and fall while going up or down the stairs and get severely hurt. Gates designed for babies and children help to keep them from playing on the stairs when you have to take your watchful eye off them for a moment.
Differences Between a Normal Gate and a Bottom of Stairs Baby Gate
While this might seem like a silly or unnecessary section, there are significant differences between a regular gate and one for the bottom of the stairs. A baby gate used for the bottom of the stairs should be able to attach to banisters. The railing installation is one of the most important differences between gates, as the railing will be the secured force. A gate that can attach to walls may not necessarily attach to banisters, but may have the option to. Other notable differences include the following:
The door ideally opens only one way, which is away from the stairs
The door is auto-locking; in case you happen to forget
Ideally, there is no threshold at the bottom of the baby gate, to avoid tripping
For a huge list of baby gates for other uses you should check out guide of the best baby safety gates of 2017.
Safety Advice
There are a few safety points to think of regarding installation and usage.
For pressure-mounted gates, always make sure the gates can securely swing and lock while ensuring that the gate is expanded to the maximum width possible for the doorway.
For hardware-mounted gates, make sure screws are screwed into a stud, and not the drywall. Many gates are too heavy for drywall to hold and will rip the brackets out, even when using drywall anchors.
Always make sure you have installed it securely and accurately before using.
Lastly, many parents wonder when their child has outgrown the gate. For some pointers you should read our post on removing the baby gate.
As always, please consult the instructions and manual that are given with the product you end up purchasing.
Before you get on with reading about the specific products I want to mention that if you do have extra wide stairs, some of these models might not fit. Be sure to measure the width before you order anything. For many of these models you can buy width extensions. Also, you can check out our guide about extra wide retractable baby gates.
Below I have compiled a list of my recommendations. These are all very good products that you should have no second thoughts about using. As every home has slightly different needs, not every one of these might be your best option. However, you should find the best baby gate for bottom of stairs for your needs in this list.
Summer Infant Multi-Use Deco Extra Tall Walk-Thru Gate

BUY THIS GATE HERE
The Summer Infant Multi-Use Deco baby gate is a walk-thru gate that can be pressure-mounted or hardware-mounted. Some of the key features of this gate include:
One-handed use
Auto-lock
"Extra tall" at 36" high and 28"-48" wide
Pressure or hardware mounted
Comes in beige and bronze
The Summer Infant gate opens in either direction and has a removable door stopper to convert it to opening only one way, which is best for a bottom of stairs baby gate. After walking through, it closes and automatically locks. This gate's height is ideal for older toddlers that are becoming more rambunctious by the day. As for extensions, it comes with two 4.5" extensions and one 9" for an accurate fit. While it can be used in doorways easily with the pressure mount option, it's also perfect for stairways with the hardware-mount choice.
The Summer Infant Walk-Thru Gate does have a threshold across the bottom which can make it unsafe when used on stairs, depending on how level your home is. This threshold is only 1-inch-high, but if you are using this at the bottom of the stairs, it is less of an issue than a gate being used at the top.
As for the warranty, there is a 12-month warranty for this gate. Overall, the Summer Infant baby gate is a sturdy gate that works well for stairs in general, but in particular for the bottom of the stairs. It has the ability to be hardware mounted and comes with a door stopper to prevent it from opening both ways, which is a diverse feature that not many have. While it's towards the higher end of the price range for baby gates, it's a safe purchase that's aesthetically pleasing.
Regalo Easy Step Walk-Thru Gate
BUY THIS GATE HERE
The Regalo Easy Step gate is the sole pressure-mounted walk-thru baby gate in the list.
Some of the key features for this product are:
29"-39" wide and 31" tall
Lever style handle
Safety lock
Includes wall cups
Comes in white
Being pressure mounted, the Regalo Easy Step Walk-Thru Gate is easy to install and remove. It has additional extensions, which are sold separately, to allow it to reach widths up to 60". The Regalo baby gate has an easy one-touch release, as well. The wall cups that are included enable it to firmly affix to walls whether at the top of the stairs or the bottom.
A negative aspect to this seems to be that this style is not very easy to open with one hand. All parents must multi-task at some point in their child's youth, and it's an inevitable thing that no one can run away from. Because of this, it may not seem like an appealing choice. As with all tricky things, it probably takes some getting used to and may be easiest to open when using both hands. As for the sturdiness and the quality, it's entirely worth the purchase.
With this baby gate, there is a 90-day limited warranty for this product. The Regalo Walk-Thru Gate is at the low end of the price range, and good for those with a tight budget. While it does not come with a hardware option, it does have wall suction cups that allow the gate to be more securely mounted. For those using it in a stairway, this feature is excellent. The Regalo also has a safety lock and lever style handle which allows for easy opening and locking to prevent children from coming through.
Evenflo Easy Walk-Thru Top of Stairs Gate
BUY THIS GATE HERE
The Evenflo Easy baby gate is the first gate on the list that swings out as a whole. Some of the notable features are as follows:
Removable swing stop
Lock indicator
One-hand release
29"-42" wide and 30" tall
Comes in a light wood and white
The removable swing stop allows this gate to fully swing in one or both directions, making it easier when you don't have both hands to work with. The easy glide handle allows one-handed use, optimal for multi-tasking mavens. Equipped with a red/green lock indicator, you'll be able to tell visually if the door is properly locked. For this style of gate there is no threshold, which is great when choosing as it features an added safety feature automatically. The style of this gate is no exception to the typical hardware-mount.
One of the disadvantages of this gate is that it's heavy, and must be installed into a stud. A drawback as such can be problematic for those who do not have studs near the top or bottom of their stairs. An easy, albeit rugged fix to this, is to use a wooden board that you attach to your wall. In doing so, it acts as a replacement stud when connecting your baby gate.
Unfortunately, there is no warranty listed for this product. Ideal for the stairs, this product, is in the middle of the price range in comparison with baby gates. The wood version does not come with the handle and lock features that accompany the highly popular metal version. The lack of threshold is perfect for use on stairs, and the ability to stop it from swinging both ways is a major plus, too.
Summer Infant Multi-Use Deluxe Wood
BUY THIS GATE HERE
The Summer Infant Multi-Use Deluxe Wood is an eye-catcher for those parents that are looking for something non-metal to baby-proof their house with. Some of the most important features are:
Pressure-mounted with optional hardware-mount
29" tall and 29.5"-40.5" wide
Auto-close
One-handed operation
Comes in dark cherry
The Summer Infant comes in a dark cherry color and is made of authentic wood. The beautiful Summer Infant Wood Gate offers a unique style when compared with the majority of baby gates, as they are mostly metal. Let us not forget that it also comes with optional hardware to give it a more secure mount, which is optimal for stairway use. Another fantastic gate for multitasking parents, this gate auto-closes and can be opened with one hand.
A negative when considering this gate is that it only opens one way. While this feature makes it ideal for a stairway gate, it's not as ideal for a doorway gate. However, the safety feature that stops it from opening both ways can actually be unscrewed, modifying it to fit your needs.
The Summer Infant baby gate in deluxe wood comes with a one-year warranty. Not only is this gate a very stylish choice for the design-conscious parents, but it's also an incredibly sturdy and reliable baby gate. It is moderately priced and an all-around decent baby gate. Reasonably priced, this baby gate is an excellent all-around choice.
Regalo Top of Stairs Expandable Metal Gate
BUY THIS GATE HERE
The expandable metal gate by Regalo is a baby gate that fully swings out when it is opened, incorporating a practical and subtle safety feature for parents who have their hands full. It also comes with a new feature that hasn't been listed with the other gates. Some of these features include:
28"-42" wide and 30.5" tall
Wall-mounting and banister-mounting bits
Lever-style handle
No threshold
Comes in white
The Regalo Top of Stairs Expandable Metal Gate has the ability to expand, allowing for a more custom fit to your staircase. The new feature, banister mounts, allows you to attach the gate without damaging or drilling into the wood. Upon removing, you're able to lift this gate out of the banister mount without taking down the mount itself and put it away for storage. Because of its ease of use, it can be operated with one hand thanks to the smooth glide opening technology. The gate can glide in and out as you pass through with no problem at all. There is also a small "foot" in the center of the gate to offer more stability.
Sometimes, these gates require imaginative modifications to enable to banister mounts to fit onto certain banisters. Generally, it only takes an added piece of wood or a zip tie to secure the baby gate in the best position for your staircase.
The Regalo baby gate comes with a 90-day warranty. It is at the lower end of the price range for baby gates. This gate is unique in that it comes with banister mounts and a foot for added stabilization. It glides open and closed with ease. The handle allows for that great one-handed use, and the lack of threshold is perfect for use at the bottom of the stairs.
Cardinal Gates Stairway Special Gate
BUY THIS GATE HERE
The Cardinal Gates isn't an accessory to the pope, but it is the last baby gate on our list. Coming in several colors, other features of this gate include:
A latch system
Optional stop bracket
27"-42.5" wide and 29.5" tall
No threshold
Comes in black, white, and wood
The Stairway Special gate, like all of the rest, boasts about their one-handed operation, which is a necessity in the life of a parent. The stop bracket allows the gate to open only one way for optimal safety during staircase use. The gate installs at angles up to 30 degrees. This enables you to find a stud that may not be directly across from your banister. This baby gate also can have extensions, but those are sold separately as well. You could remove this gate and leave the brackets if you wanted to.
The only disadvantage to purchasing this gate is that the clamps are sold separately. There's nothing worse than coming home from shopping or ordering online only to find out that you don't have a particular piece. If you feel this is a great baby gate for you, make sure to add clamps to your online cart.
At the higher end of the price range for baby gates, it's unfortunate that it doesn't come with a warranty. The color options of this baby gate allow you to match it perfectly with the aesthetic of your home. Thankfully, this baby gate setup has no threshold and can open one way for optimal safety. Lastly, there's a latch system for ease of parental use. Overall, this gate is definitely worth the purchase. Make sure that you read our full length Stairway Special Review.
Fireplace baby gate
As an alternative to these options we have provided here, some people choose to use a fireplace fence for babies. These are not used to block off the stairs by attaching to banisters or railings, they block as a fence around the stairway entry.
Baby Gate for Bottom of Stairs – My Recommendation
With the abundance of baby gates on the market, this short list may still overwhelm you. Because of this, I would like to offer my top recommendation from personal experience and research. This is a gate that I have used myself.
My personal opinion is that the best baby gate for the bottom of the stairs is the Evenflo Easy Walk-Thru Gate. It not only can swing both ways but also comes with a swing stop to make it safe for top of stair use. This diversity is handy if you suddenly need a top of stairs gate more than a bottom of stairs. The width of this gate is versatile in a way that it fits most stairway entries. One of my favorite parts about this gate is that it has a lock indicator for visual inspection. Having a lock on the gate is an essential key to keeping children from opening the gate themselves. With the lock indicator, this is much easier for parents to ensure.
The lock indicator enables you to be reassured that your gate is properly locked when you close it. However, the wooden version does not come with this feature. The Evenflo baby gate is smack dab in the middle of the price range for baby gates, making this not only a great baby gate but a smart investment as well. With its durability, you can use this for years to come if you choose to have another child.
I hope that you have enjoyed my guide about how to find the best baby gate for bottom of stairs and that it was helpful for you.