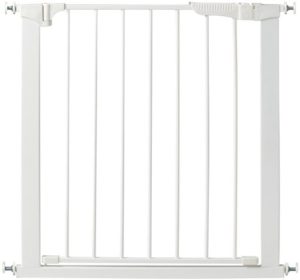 The Kidco Auto Close Gateway is one of my personal favorites among pressure mounted
baby gates. If you need a gate to keep children out of the kitchen or inside a dedicated room, this gate is just what you need. It is very easy to install and has all the features that you can expect from a pressure mounted baby gate.
If you don't want to read the whole review, you can check out the gate and customer feedback at amazon.
Auto Close Function
This is probably the feature that I like best about this gate. If you think that the name attempts to describe some fancy feature, you are wrong. The auto close function does exactly what the name implies, it automatically closes the gate door. For those of us who either forgets closing often or are carrying stuff (or a baby) through the gate, an auto close function is perfect.
A magnet-lock technology is used to draw the gate door to a closed position. With this feature you are sure that your gate is closed and safe every time.
But what about those times that we want the gate to stay open? This is solved with a feature that keeps the door open.
Easy installation
15 minutes is all the time you need for installation. You do not need any tools to do it either. The video embedded below explains how to install it. As you can see, anyone can do it!
List of Features
Auto closing door with magnet lock
You can set door in "hold open" position easily
Made from steel
You do not need any tools for installation
Mounts by pressure
Height: 30.5 inches
Width without extensions: 31.5 inches to 37 inches
Width including two extensions: up to 47.5 inches
Two extensions included
Customer Feedback
Judging from the amazon reviews, people are very pleased with the KidCo Auto Close Gateway. It has a total of 4.2 out of 5 stars, which is considered very good.
The positive reviews mainly revolves around the same points discussed earlier in this post.
The few negative reviews I could find for this products had something to do with the gate not fitting a specific situation.
You can read the reviews yourself here.
Kidco Auto Close Gateway Summary
I would definitely recommend this gate to all of my private customers. Actually, I have done it numerous times. This is one of the few pressure mounted gates that I really like, and I am sure that it will work great for you as well. One thing is important to remember though: never use a pressure mounted gate at the top of stairs. I have said this many times before, but it is important. Don't even consider doing it! Other than that the Kidco Auto Close Gateway is a fantastic gate that you will be very pleased with if you choose to buy it.