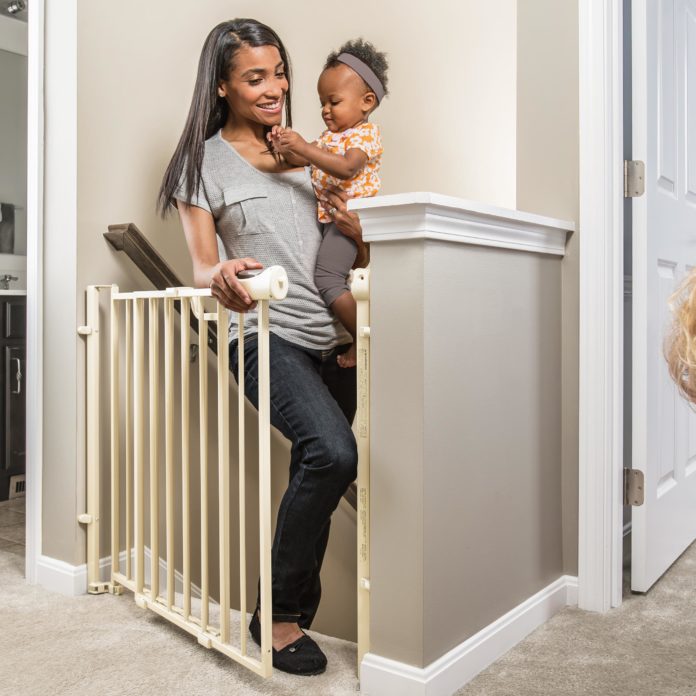 The most important baby proofing device to install is a top of stairs baby gate. If your house has stairs, securing them should be one of the first things to take care of before your baby starts crawling. Neglecting it could have catastrophic results.
In the article you are reading I will provide you with a list of the 4 best top of stairs baby gates. All of them are gates that have gotten very good reviews and feedback. These are products that you can trust!
The Best Baby Gates For Top of Stairs
1. Cardinal Gates Stairway Special Gate
What puts this gate at the top is the flexibility of use. If you have a flat-to-flat surface, like a baluster and wall, you can mount this gate. If the two surfaces aren't directly across from one another, you can still get a secure mount. This gate can be angled up to 30 degrees to make it fit just about anywhere.
Out of the box the height is 31 inches and width is 42.5 inches. If the opening towards your stairway is wider you can buy extensions. There are two different extensions available:
10.5 inches, if your opening is between 42.5 and 53 inches
22 inches, if your opening is between 49 and 64 inches
By taking advantage of these extensions, this product can be considered an extra wide top of stairs baby gate.
Another great addition for this gate that comes as an extra is the hardware for attaching to round newel posts and banisters. You don't even have to drill holes in your furnishing to mount it. In my mind this is without a doubt the best baby gate for top of stairs.
Key features:
One-way opening
One handed latch system
Auto lock hardware mounting
FIND BEST PRICE
2. Evenflo Easy Walk-Thru Top of Stairs Gate
Here is a gate that is super easy to install. All you need is 15 minutes and some tools. The hardware is bracket-based and is customizable to fit your needs.
The best feature is probably the sturdy construction and durability of the product. It is one of those gates that will last years and years. This is a gate that is made with the top of stairs in mind, and Evenflo has done a great job with it.
Read our separate review of the Evenflo Easy Walk Thru Top of Stairs gate here.
Key features:
Made from metal
Removable Swing stop that prevents the gate from opening over stairs
One handed operation that is hard for kids to open but easy for grown ups
Lock indicator, red and green to show if gate is locked
FIND BEST PRICE
3. KidCo Safeway Top of Stairs Gate
As the two previous, this is a very good top of stairs baby gate. It has the ability to be mounted to both posts and walls. Budget wise it is one of the friendlier options.
The gate itself is made from steel, so it is a robust gate despite its slim appearance.
Key features:
One handed operation
Non-automatic closing
One-direction hinge
Available in black and white
FIND BEST PRICE
4. North State Supergate Easy Swing Lock Metal Gate
As you probably know, North States is one of the big guys in the baby gate market. It would be strange if they didn't have a good option for stairs. Luckily they do.
This is also a budget friendly option that delivers high quality.
You can get this gate in 3 different styles: Stairway Swing, Easy Swing & Lock, and Tall Easy Swing & Lock. The price is not very different between these options.
Key features:
One handed latch
Made in USA
Automatic locking mechanism
FIND BEST PRICE
Top of Stairs Baby Gate – General Advice
When Should I get one?
The sooner, the better. I recommend to begin looking for the best safety gate to fit your situation even before having your baby. That way you have an idea in mind. However, if you are already beyond that point, be sure to get a baby gate before your bundle of joy starts crawling.
Safety gates are intended for children that are 6 months old to about 2 years old. Some may even last up to 3 years of age. After that, your toddler may understand how to open the gate on their own, so it should no longer be used for their safety. If you want to know more about when you should remove a gate, check out this article.
What Kind of Baby Gate is Suitable for the top of stairs?
Since this list is devoted to those used at the top of stairs, you are going to need a hardware-mounted gate.
A hardware-mounted safety gate for the top of stairs is the most secure for this location. Such gates are made of various materials with wood, steel, or aluminum the most used. Steel brackets get screwed into a door frame or into walls—but never into drywall or plaster, as these crumble easily and dislodge the gate. If you do have drywall or plaster, you should localize the framing behind the wall surface.
You will need a one-direction opening gate. Installation should make certain that the door opens towards the landing, never the stairs. Most of the good baby gates for top of stairs do have some kind of mechanism that prevents the gate from opening over the stairs.
Always measure the opening to make sure the gate will fit correctly. Not only is it annoying if you can't get it installed, many of the home made modifications can be unsafe and dangerous.
IMPORTANT NOTE: Pressure Mounted Gates
You should never use pressure mounted baby gates for the top of stairs. There are two main reason to avoid them:
The first reason is that the friction between the pressure pads and the wall may not be big enough to withstand the force of a child leaning or falling against the gate. Should your gate fail in this way, it will often result in serious injury.
A pressure mounted gate needs to have a horizontal bar under the gate door to transfer the pressure between the two walls. As you can imagine, the bar represents a tripping hazard. At other locations (for example between the kitchen and living room) such a hazard can be accepted, but at the top of stairs it is very dangerous.
ALSO NOTE: Never Buy Out-dated Gates
I'm talking about those hand-me-downs from people who had kids before you were born. These models are no longer considered safe by standards set forth by the Juvenile Products Manufacturers Association (JPMA) or the American Society of Testing and Materials (ASTM). How do you know you've gotten an obsolete model? First, there might be diamond-shaped spacing or V-shaped ones between the slats. Other models look like fold-able accordions. In any case, be careful if you choose to use an old baby gate at the top of stairs. Use your best judgement and test if the gate is safe enough. If you have the slightest doubt, chuck it out!
How do I Know I Bought a Quality Gate?
First, I already mentioned the Juvenile Manufacturers Association (JPMA), the certifying body of all baby safety products and materials used in child toys and other articles. The standards set forth by the JPMA address certain issues like the gate's strength, finger and toe entrapment, latch integrity, and gate dimensions. When you find a top of stairs baby gate that suits your needs, do your homework and check to make sure the model has a JPMA sticker on the packaging or something mentioned on the product's online listing.
These brands offer hardware-mounted safety gates for top of stairs with JPMA certifications:
Cardinal Gates
Evenflo
Retract-A-Gate
KidCo
Tee-Zed Products Dream Baby
Regalo
Munchkin
Summer Infant
What Should I Keep in Mind?
Probably the most dire point to keep in mind when buying a safety gate for top of stairs is to shop comparatively. Some gates are better than others depending on what kind of stairs you have in your home and how much traffic that staircase sees.
Other things to remember include:
Cats and Dogs
Other children
Type of walls (when mounting)
Shape of the staircase
Size of the opening/hallway
Height of the railing
Flooring – Carpet? Wood? Linoleum?
Indoor or outdoor
Structural integrity
Convenience
I left out exact prices for one reason. Your baby's safety is worth more than the cost of the gate. Way more. Don't go and purchase a wooden gate for $9 and get upset when your dog knocks it down onto your toddler.
A top of stairs baby gate is the most essential tool for baby proofing your home. You want to make sure you are buying JPMA and ATSM certified, quality goods that are up-to-date and convenient for your home. Never purchase pressure-mounted gates, as they are not designed to be a top of stairs safety gate.
If you have any questions or recommendations for baby gates for top of stairs or would like to comment on one of our selections, feel free to connect with us either in the comment field or through our contact form.