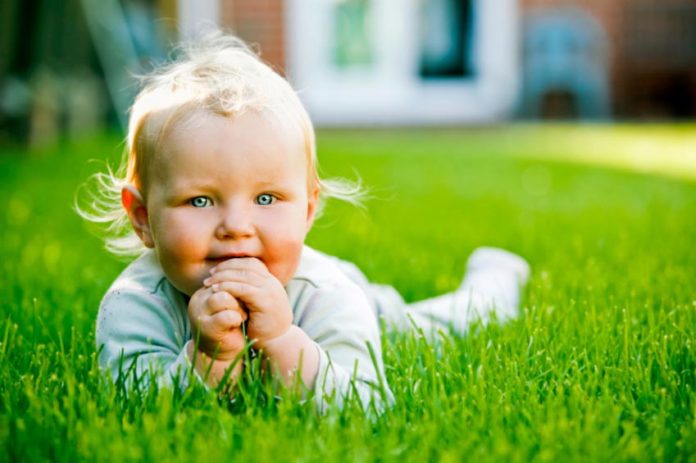 Finding the best outdoor baby gate might not be as easy as it sounds. The reason is quite simple. There just aren't that many to choose from. As I have been getting quite a few questions about this topic, I have decided to create a guide that will hopefully help most of you make a good choice.
In this guide, I will talk about the following:
Some examples of good gate placement in your backyard
Why you might not need a gate that is specialized for outdoor use
Give some really good recommendation of gates
The illustration below shows some openings that should be closed with an outdoor baby gate. Besides the fact that a permanent installation needs to withstand the weather and not corrode, there is no difference between using a baby gate outdoor than indoor.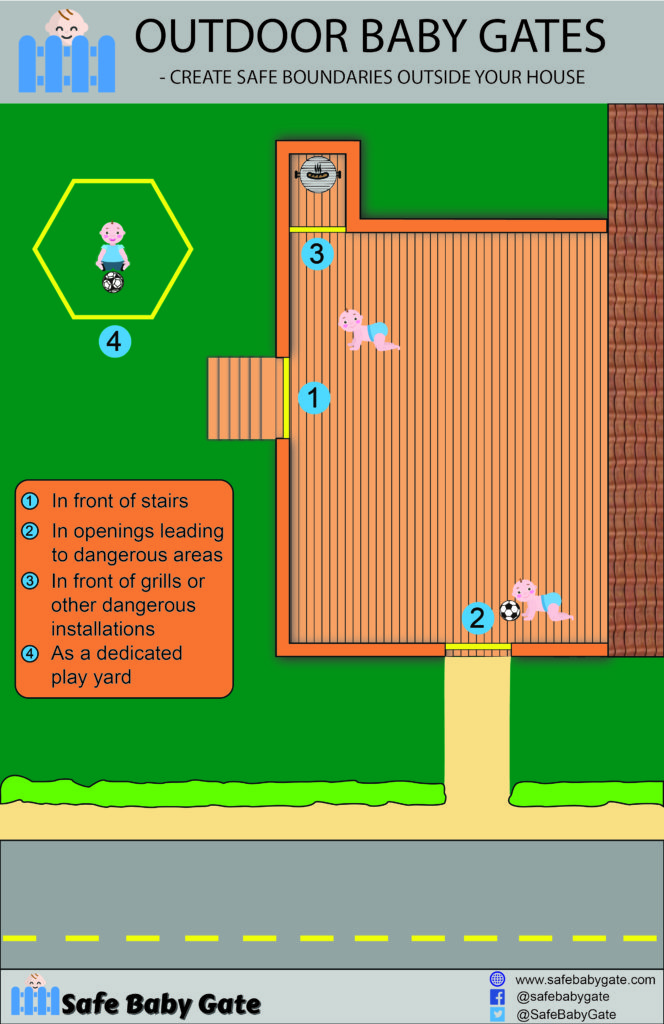 I will be referring to the four situations illustrated above in the rest of this guide.
If you are looking for indoor baby gates, check out my huge guide about the best baby gates for 2017.
1. Using an Outdoor Baby Gate to Secure Stairs
I think that this is how most people use their gates outside. There are a few things to be aware of and to consider when deciding which gate should be used for the stairs.
Do not use pressure mounted gates at the top of stairs
Some of the openings leading to stairs might be wider outdoors than they are indoors
Even though the stairs are usually shorter than they are indoors, they are still dangerous for small babies and toddlers
Below I have included my two recommended gates for the top of your outdoor stairs.
Cardinal Gates Stairway Special Outdoor
I have talked about this gate in several other posts. That is not a coincidence as it is likely the best outdoor baby gate available on the market today. As the name implies, these gates are mainly intended as outdoor baby gates for stairs but there is nothing wrong with using it for just about any opening outside.
Cardinal Gates has given this gate the label "Weatherproof". What do they mean by that? Well, it basically means that this gate can be mounted and left outdoors regardless of the weather. It is the choice to use stainless steel and lightweight aluminum (with a powder coating) that makes it weatherproof.
Another neat thing about the Stairway Special is its versatility. Out of the box it is adjustable between 27 and 42 ½ inches. The vast majority of openings should be well covered within these boundaries, but if you do have a wider opening you can buy extra extensions. There are two extensions to choose from, one that is 10 ½ inches wide and one that is 22 inches. The table below explains if you need an extension and which one. You can use the links to read more about the extensions at amazon.
Some key features:
Can be mounted at up to 30 degrees angle
Bar spacing of 2 ½ inches
Height of gate is 29 ½ inches (Note that this is the height of the gate itself. According to installation instructions you should mount the gate 1.75 inches above floor/decking, so the total height is about 31 inches.)
One handed operation
This is without a doubt my favorite outdoor baby gate.
If you want to read more about this product, you can check out my complete review of the Stairway Special Outdoor. In the review you will find much more information plus a video that shows how it should be installed. Additionally, the indoor version of this gate is my top choice as a top of stairs baby gate.
Head over to amazon to read customer reviews and find the best price.
Summer Infant Indoor and Outdoor Multi Function Walk Thru Gate
Despite having one of the longest product names in the western hemisphere, this is a very good gate to mount at the top of outdoor stairs. Not as sturdy as the Stairway Special by any means, but it still does the job of keeping children away from stairs well. It should also be mentioned that it is a bit cheaper.
The reason you can use it outside is that it is made from plastic. The only thing you might want to double check when your gate arrives is if the mounting screws are made from stainless steel. I couldn't find any information about it, but I assume that they are corrosion-free.
There are three ways of mounting it, by pressure, with adhesive tape and with hardware. As we are talking about mounting it at the top of stairs here, the only viable option is to mount it with hardware. The adhesive mount method should not be used for mounting it outside, but you can mount it by pressure if you have some other opening to seal off where using a pressure mounted gate is appropriate.
Read full customer reviews and find the best price on amazon.
The short video below by Summer Infant illustrates how this gate can be mounted.
2. Securing Openings Leading to Dangerous Areas With an Outdoor Child Gate
Many decks and porches has exits that leads directly to some kind of dangerous are. Often this area is a road. If your house has an exit like this, I strongly suggest that you make sure that you have a rigid and strong outdoor safety gate to prevent your baby going to the dangerous area. Naturally, if there are stairs leading down that exit, the gates listed for stairs would be perfect. I have included two recommended gates here as well.
Cardinal Gates Stairway Special Outdoor
Of course, this is another place that this fantastic gate can and should be used.
North States Supergate Ergo Plastic Gate
I have chosen to include a cheaper alternative here as well. In fact, this gate is quite similar to the Summer Infant gate I recommended for the top of stairs. Both these gates can be used for both the top of stairs and openings leading towards dangerous areas.
As for the top of stairs, I would not use anything but hardware mounted gates for openings leading to a road or other dangerous areas. The Supergate Ergo can be mounted with either hardware or pressure.
To keep the gate safe from weather, this one is also made from plastic. Again, be sure to check if mounting parts are corrosion-free.
Find best price and read customer reviews at amazon.
3. Secure Your Grill and Other Dangerous Installations With an Outside Baby Gate
Here I am talking about installations that are on your deck or porch. A grill is the most common example, but there may be other things as well. There are a few other requirements for the outdoor child safety gates in this situation.
In front of grills and other potential hazards on your deck or porch I would choose a retractable gate. There are two reason for it. First I want a gate that is easy to open and close as there will be lots of traffic through the gate when the grill is in use. Second, and this applies to secure food preparation equipment, we do not need to have it in place when the grill is not in use.
Retract-A-Gate
When it comes to retractable gates, my clear favorite is Retract-A-Gate. Easy operated, good design, very durable, scratch resistant. In other words, it has just about anything I want from a retractable gate.
The standard version covers up to 52 inches, but if that is not enough you can get it in an extra wide edition that covers up to 72 inches. Many openings outside are far from standard, so this extra wide opening may just be what many of you need.
One of Retract-A-Gate's best features is that it can be un-clipped and re-clipped from and to the mounting brackets very easy. In fact, this is the feature that makes it well fit to be an outdoor baby gate. A gate that you use to cover a grill does not have to be outside all the time. With the Retract-A-Gate, you can just un-clip it and bring it inside the house.
Check price on this fantastic gate at amazon.
Dreambaby Retractable Gate
This is also a very good retractable gate. For this exact task, however, I do prefer Retract-A-Gate. The main reason is that it operates so much more easy than Dreambaby's model. Admittedly though, Retract-A-Gate is a bit pricey, so as a cheaper alternative the retractable gate from Dreambaby works very well.
I have written a more detailed review of the Dreambaby Retractable Gate, be sure to check it out if this gate seems interesting to you.
Also, you can read customer reviews over at amazon.
4. Create a Dedicated Play Area for Your Baby
If there are just too many potential dangers outside your house, buying a play yard may just be the best option. With a play yard you have full control over where your child is at all times. Below i have written a few words about two of my favorites. If you want to know more about them, use the links to see what other people are saying on amazon.
Summer Infant Pop N' Play Portable Playard
For babies, this is my favorite play yard. It is surprisingly easy to assemble and very lightweight. This makes it easy to bring it in and out of the house when needed. Taking this play yard to the park is no problem either. The combination of a lightweight construction and a compact carry-bag makes it very portable. You can of course also use it indoors.
One of the main reasons that I like this gate so much for babies is that it has a weather resistant canvas floor. By having the floor, you will avoid a lot of the ants and other nasty creatures trying to get in. Another great feature is that the sides are see-through mesh. This means that you don't have to be right beside the play yard to keep an eye on your baby.
The play area of this yard is 14 square feet, which should be enough. It is 48 inches wide and its height is 26 inches. Carrying is not a problem as it weighs only 12 pounds.
This is one of the best reviewed outdoor baby play yards on amazon, so be sure to read through a few of the reviews and check the best price.
Summer Infant Secure Surround 6-panel PlaySafe Playard
With this play yard, summer infant has taken a different, more traditional, approach. This approach is the classic one where you build fences that make a real yard. Let me just tell you right away, there are many options to choose from if you need a play yard. Many of them are really good options.
The reason that I like this model is that it delivers a very good package of features. It is lightweight, has a carry-handle and is weatherproof by the use of plastic.
It is a bit larger than the Pop N' Play. The play area measures 18.5 square feet and it is 30 inches high.
If you are planning to use a play yard when your baby is a bit bigger, I think this one is perfect for you, but I do think that for small babies, the Pop N' Play is better.
Find the best price and read reviews on amazon.
Summary
As you can see, if you think outside the box and carefully define what you need, there are some alternatives to choose from. I hope that this guide will help you in finding the best outdoor baby gate that match your needs and expectations.