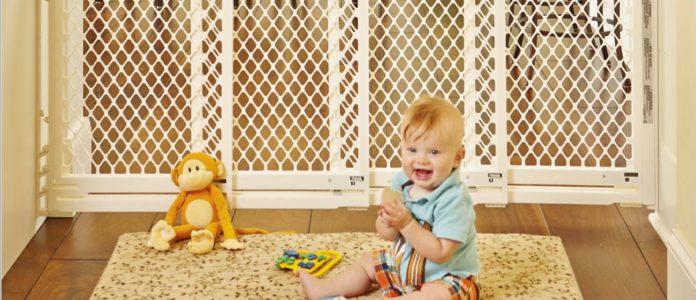 Luckily, most of the openings within our homes is within a certain width range. This makes it easy for us to pick up a safety gate that we know will fit. However, there are some openings that just is too wide. In this post I will talk about how to find an extra wide retractable baby gate.
Finding a baby safety gate that is wider is actually quite easy. You can find plenty with a simple search, but if you want the gate to be retractable in addition to extra wide, your options suddenly become very limited.
Some of you reading this might ask why it is important that you use a retractable gate. Well, it is not important in any way, but they normally do look a lot better and they "disappear" when not in use.
Actually, there have been many questions about how to find an extra wide retractable baby gate lately. Some people wonder if there is such a thing as a good retractable baby gate for extra wide openings. That is why I have decided to write this post. I will give two suggestions in this post, both of them are safe and good options.
The first one is, without a doubt, the best that is available on the market in this category. However, great quality usually comes with a price tag that matches that quality.
The second one is a lot cheaper. It might not be exactly what you think of when we say "retractable"; it is more of a good compromise.
Before I get into talking about the specific gates, let me clear one thing up.
What Does Extra Wide Really Mean?
If you ask this question to five different people, you might get five answers that say the same thing. Something like "An extra wide baby gate should cover an opening wider than the standard", would probably be close to what we can expect everyone to answer. Of course, this is correct, but we should actually be more specific than this.
An extra wide retractable baby gate that covers more than a 55 inch opening. That simple.
Why exactly this number? If you browse through a few retractable baby gates you will quickly see that the vast majority of the stretches out to 55 inches. Therefore, this has to be the standard width. (You should also know that this is strictly a definition for retractable gates, it is not a definition for extra wide baby gates in general.)
For you as a consumer, this precise definition makes things simple. If your opening is 55 inches or below, you choose the standard size. You can find recommendations in a variety of categories in our main baby gate guide. If it is more than 55 inches, you choose an extra wide size.
Good to know, right?
Wide openings can be anywhere in your house, but one of the most normal places to use an extra wide baby gate is at the bottom of stairs.
The Best Extra Wide Retractable Baby Gate Available
Retract-A-Gate Safety Gate 72"
CHECK PRICE AT AMAZON
Once again, this is the best one available. No question.
Retract-A-Gate is a company that, as the name suggests, specializes in retractable gates for kids and pets. They do a great job at it too.
This gate features a tough and washable fabric. For you this means that there is no problem using it for dogs as well as kids. And if it gets dirty, you can clean it easily with a wet cloth and soap.
Some retractable gates makes an annoying sound when opening and/or closing. Retract-A-Gate has chosen the opposite option with creating a quiet gate.
The only thing you have to do when installing it, is to mount four brackets with two screws each. This gives you a quick and easy installation that anyone can do. In addition, a very good installation manual with illustrated instructions is included. This means that you do not have to call anyone for help.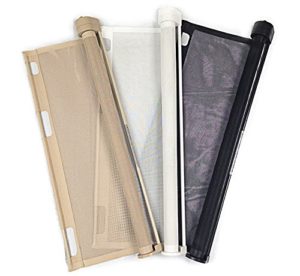 As the name of the gate says, this gate spans over an opening up to 72 inches. When the gate retracts, its size reduces to only 3 inches. For many consumers, this the main reason that they buy a retractable gate instead of one that permanently blocks the opening. Its height is about 40 inches and weighs about 4 pounds.
Mothers that has to carry her child a lot do not have to worry. This gate is one of the few that truly operates with one hand. In fact, it is surprisingly easy.
You can also buy an extra set of wall brackets and mount them at a different location. Because the gate quickly un-clips from the brackets, you can relocate it as you wish, when you wish. In addition, you can get several other mounting kits that enables you to mount the gate almost anywhere. The video below shows how a clever dad has been able to install the gate at a difficult location.
All in all, a superb gate that fulfills all the requirements for an extra wide retractable baby gate. You can read more about Retract-A-Gate and their products on their homepage.
CHECK PRICE AT AMAZON
As mentioned earlier, this gate is more of a compromise than a true retractable gate. It does however have the main feature of retractable gates; it gets out of the way when not in use.
If you are just looking for the best gate available, you should choose Retract-A-Gate, but it might be a bit pricey for some. North State Supergate is a cheaper alternative that also works well.
North States is a brand that has focused their efforts towards the lower end of the price spectrum. They mostly design gates made from plastic. The lower price and plastic should not scare you though; the gates are sturdy and trustworthy.
This gate is an extra wide edition of the Supergate that has several other family members.
It adjusts to fit openings between 22 and 62 inches. Although not as wide as Retract-A-Gate, it covers most situations. In height, it measures about 32 inches and weighs about 12 pounds. Quite a bit heavier than our other option.
Mounts easily with the included hardware. Just as the Retract-A-Gate you can buy extra sets of mounting brackets for easy relocation.
The gate itself consists of four plastic panels that slide in and out of each other. Though not what you might expect, it can still claim to be retractable. On the gate side, the mounting brackets has a hinge system that allows you to swing it out of the way.
No, it is not as good and elegant as our first option, but if you want a lower priced gate this should be your choice. More information can be found on North States homepage.
Summary
Even though you do not have many options to choose from if you are looking for an extra wide retractable baby gate, you now have two really good options. Both of them performs their job really well.
We hope that this post have given you some help in choosing which one will be best for you and your situation.